Reinvigorate your teaching practice by attending EcoLinks 2016.  This conference is packed with hands-on workshops to learn new skills for teaching environmental education.
The conference takes place on Friday May 13th only 40 minutes north of Oakville, Mississauga, and Toronto in lovely Terra Cotta, Ontario.
Conference fees of only $80 include access to workshop refreshments, lunch, and membership to OSEE for one year.
EcoLinks 2016: OSEE's annual conference on Friday May 13th.  Spots are limited for both events. Register here.

Due to changes in presenter availability, the conference schedule has been revised. Our apologies for any confusion.
Please see the, EcoLinks 2016 Conference Guide for the final schedule and workshop descriptions.  Please feel free to print and bring this guide with you to EcoLinks 2016.  At EcoLinks, conference schedules will be provided to all participants, and workshop descriptions will be posted on a bulletin board onsite.

Looking to carpool? Let us know if you need a ride or are willing to drive people to the conference by filling out our Carpool Form.

EcoLinks 2016 will take place May 13th at Jack Smythe Field Centre and Terra Cotta Conservation Area in Terra Cotta, Ontario.
Please arrive and park at the Jack Smythe Field Centre, located at 14592 Winston Churchill Blvd, Terra Cotta, ON (rather than at the Terra Cotta Conservation Area).  The conference begins at 9:30 AM with registration opening at 9 AM.
Workshops and the exhibitors hall will take place at the Jack Smythe Field Centre.  For lunch we will hike to the adjacent Terra Cotta Conservation Area.
Please see the, EcoLinks 2016 Directions, for a map of the two sites.

This year's conference features an abundance of hands-on workshops, many of them outdoors. To get the most out of the day, we recommend dressing according to the weather, and bringing rain jackets / umbrellas and footwear that you don't mind getting muddy.

We are aiming to make EcoLinks 2016 a zero-waste event.  Please lug a mug with you for coffee & tea.
---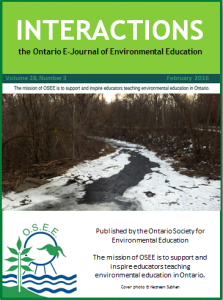 February 2016 Interactions
Volume 28, Number 3
Information to access
this issue has been emailed to all members.
Not yet a member?
Contact our Acting President, Katya Seckar (katya.seckar@gmail.com) or register online now.
---