This spring, OSEE is hosting a suite of PD events to support educators with integrating environmental education into their teaching practice.
All events include hands-on workshops with a focus on building new skills and learning new activities for teaching environmental education.
Click on each event below to learn more:
Have environmental successes or programming to share with educators?
Offer a hands-on workshop at Ecolinks 2017 or the OSEE PD Day! Apply here.
Interested in being an exhibitor?
Spread the word about your environmental offerings to educators at Ecolinks 2017. Apply here.

---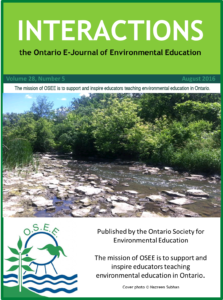 August 2016 Interactions
Volume 28, Number 3
Information to access
this issue has been emailed to all members.
Not yet a member?
Contact our Acting President, Katya Seckar (katya.seckar@gmail.com) or register online now.
---