The Ontario Society for Environmental Education (OSEE) is a Subject Association for all educators interested in integrating environmental topics into their teaching practice. For more information about OSEE, click here.


Upcoming OSEE Events
EcoLinks 2018
May 2018 | Location TBD
In May 2018, OSEE will be hosting the annual EcoLinks conference to support educators with integrating environmental education into their teaching practice.
Location and registration details will be announced shortly!
For information about OSEE's 2017 EcoLinks and PD Day conferences, click here.
---
OSEE Publications
May 2017 Interactions
Volume 21, Number 4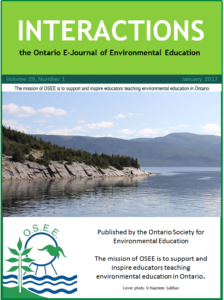 Information to access this issue has been emailed to all members.
Not yet a member?
Contact our President, Laura Leet (laura.leet AT osee.ca) or register online now.
---