Saturday, May 27th at the Camp Kawartha Environment Centre, Peterborough ON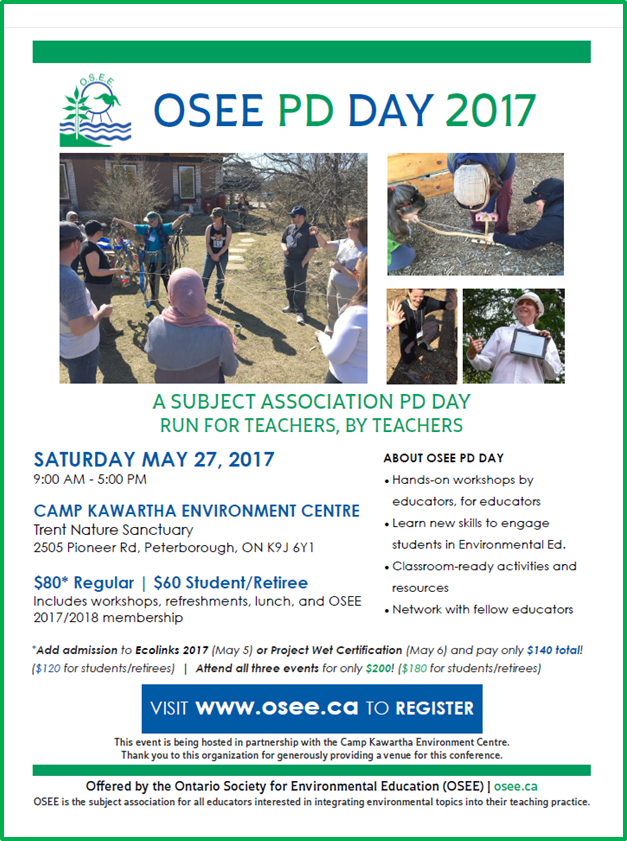 Check out the OSEE PD Day Conference Guide here.
---
Pricing and Discounts
Regular rate: $80
Student / retiree: $60
Ecolinks 2017 Day 1 participants: $40
Ecolinks 2017 Day 2 – Project Wet participants: $65
---

The 2017 OSEE PD Day is located just an hour drive northeast of Oshawa, at Camp Kawartha Environment Centre, 2505 Pioneer Rd. Peterborough ON.
PUBLIC TRANSPORTATION
You can arrive at the Environment Centre by taking the GO Train to Oshawa and the GO Bus to Trent University. (Ask the bus driver to let you off at the intersection of Pioneer Rd. and East Bank Rd, then walk just 100 m further west on East Bank Rd.)
CARPOOL
We are happy to help organize carpools to the conference to improve access and minimize environmental impact.  If you are looking for a ride OR have a ride to offer, please take a moment to complete the Carpool Form for OSEE PD Day. Your personal information will be kept confidential.

Looking for affordable accommodation?
Trent University is only a short walk from the Environment Centre and offers single rooms for $37.25 to $60 a night. For more information:
Peterborough also has a number of hotels, as well as bed and breakfasts – See Tripadvisor listings here.
Reserve your spot at these interactive and inspiring events by registering now.