EcoLinks 2016 Workshop Summaries and Resources 
EcoLinks at a Glance
OSEE's annual conference, Ecolinks, was held May 13th at Jack Smythe Field Centre and Terra Cotta Conservation Area in Terra Cotta, Caledon, Ontario. The day included:
Interactive workshops held both indoors and outdoors
Exhibitors highlighting environmental education resources for educators
A guided hike through the forest to lunch
The OSEE Annual General Meeting
Many heartfelt thanks to our site hosts, the Peel District School Board Field Centres and Credit Valley Conservation, for generously donating the use of their sites for the conference.  It was wonderful spending the day in such a beautiful setting! Thanks as well to our workshop presenters for sharing their wisdom, activities, and resources for environmental education.  Finally, thanks to all conference attendees for coming out and being part of the day!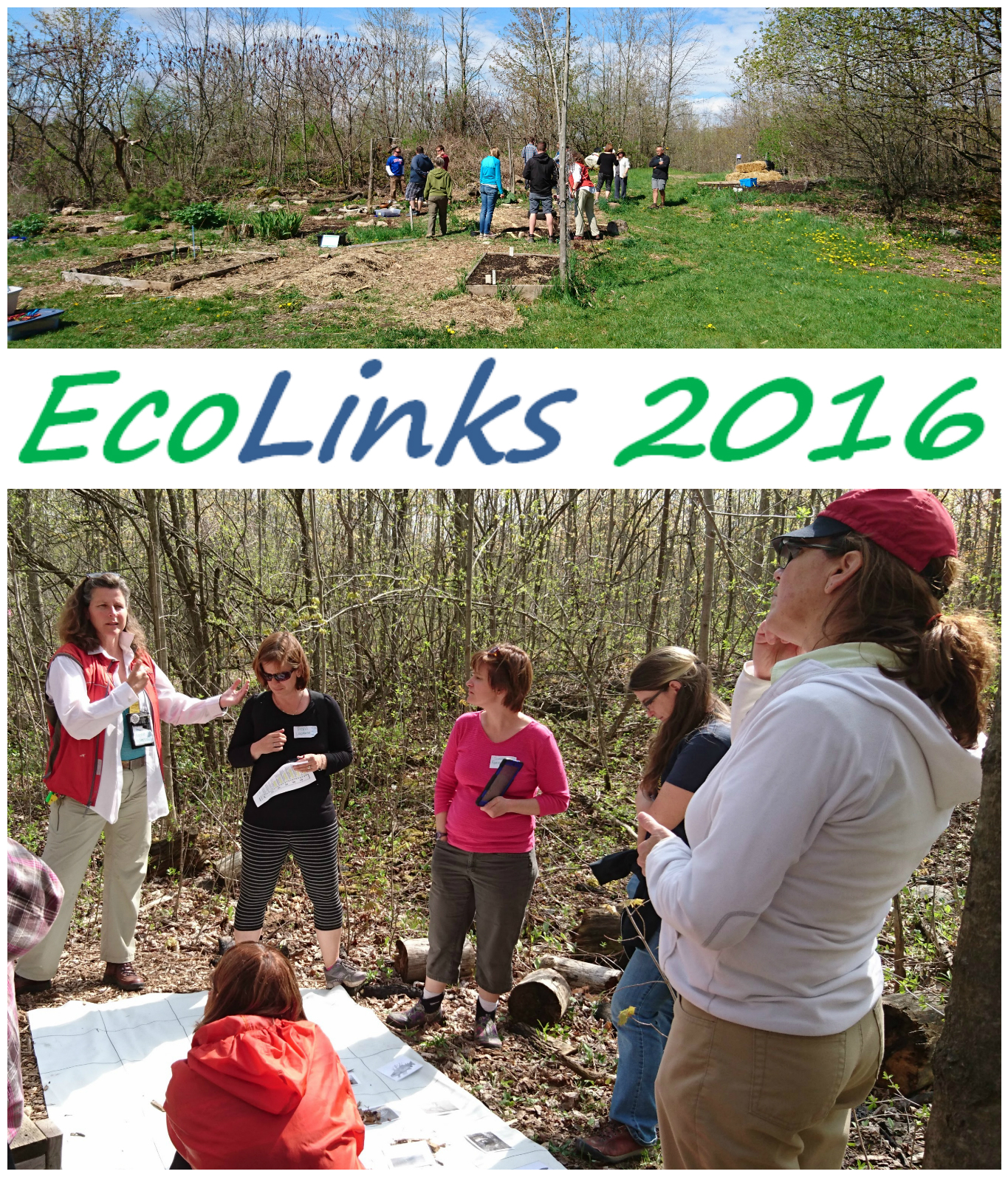 EcoLinks 2016 Workshop Summaries and Resources
Accessibility in the Garden – Adapting Outdoor Play to Meet the Needs of Every Learner
Catherine Hobbis and Holly Marsh of Ecosource | Primary
This workshop showed how to adapt activities for individuals with different needs, and provided hands-on experiences that can be replicated in your classroom.
Learn more about more EcoSource Programs at http://ecosource.ca/
Hands-on Curriculum for a Crowded Planet
Raizell Slobodsky of Population Education | Intermediate – Senior
Participants engaged in activities that help students learn and think critically about many of the environmental challenges of our growing human population including modeling, concept-mapping, role-playing, cooperative group problem-solving and balanced debate.
Learn more about Population Education at http://populationeducation.org/
Schoolyard Bird-Blitz
Liza Barney of Bird Studies Canada | Primary – Junior – Intermediate – Senior Liz introduced Bird Studies Canada's Schoolyard Bird-Blitz , sharing resources to use with students to facilitate this fun, annual spring bird count in your schoolyard!
Learn more about more EcoSource Programs at http://www.birdscanada.org/education/school/?targetpg=birdblitz
Why the Campfire is the Perfect 21st Century Learning Tool
Rob Ridley of Peel District School Board | Primary – Junior – Intermediate
Rob showed how participants could use a simple yet effective campfire as a learning tool in their classroom space to listen, share, discuss and question.
Learn more great ideas from Rob Ridley and participate in this next twitter chat on August 17
Tree ID and Measurement
Mike McMillan of ACER | Primary – Junior – Intermediate – Senior
Mike shared how to monitor the annual growth of trees using Smithsonian protocols.
Learn more about ACER, find great resources and use Treepedia (Tree ID) at http://www.acer-acre.ca/resources
Using Outdoor Environments to Foster Student Inquiry
Pam Miller and Bonnie Anderson | Primary – Junior – Intermediate
Pam and Bonnie led participants through methodologies to engage students in meaningful inquiry that helps them become informed citizen scientists.
Learn more about using outdoor environments to foster student inquiry by downloading the following resources:
School Gardens and Seed Libraries: Nourishing Minds and Student Bodies
Jacob Kearey-Moreland of Toronto Seed Library | Primary – Junior – Intermediate – Senior
Jacob led discussions about the challenges and opportunities of starting or sustaining a school garden, seed library, or other community growing initiative.
Learn how to use the Toronto Seed Library and connect with Jacob for further questions at:
Seeing the world with an environmental eye! Using the outdoors as a laboratory to promote 21st Century learning skills
Yovita Gwekwerere of Laurentian University | Primary – Junior – Intermediate – Senior
This workshop featured a walk in the woods followed by an indoor session focusing on exploring how the outdoors can be used as a laboratory for teaching virtually any topic in the science curriculum.
To learn more, you can contact Yovita at https://laurentian.ca/faculty/ygwekwerere
Revisioning sustainable communities using eco-arts design and animation tools
Les Luxemberger | Intermediate – Senior
Les illuminated how to make a short animated film and the tools and methods needed to help students design their own.
To learn more you can contact Les at http://lesluxemburger.com/
Music, Art and Creativity in Outdoor Education
Rachel Stewart of Toronto Region Conservation Authority | Primary – Junior – Intermediate – Senior
This hands-on session explored ways to use music and art to immerse students in their environment, and connect to their local environs.
To learn more, see http://monarchteacher.ca/home/workshops.dot
EcoLinks Exhibitors
A special thank you to our EcoLinks exhibitors for bringing wonderful resources for educators.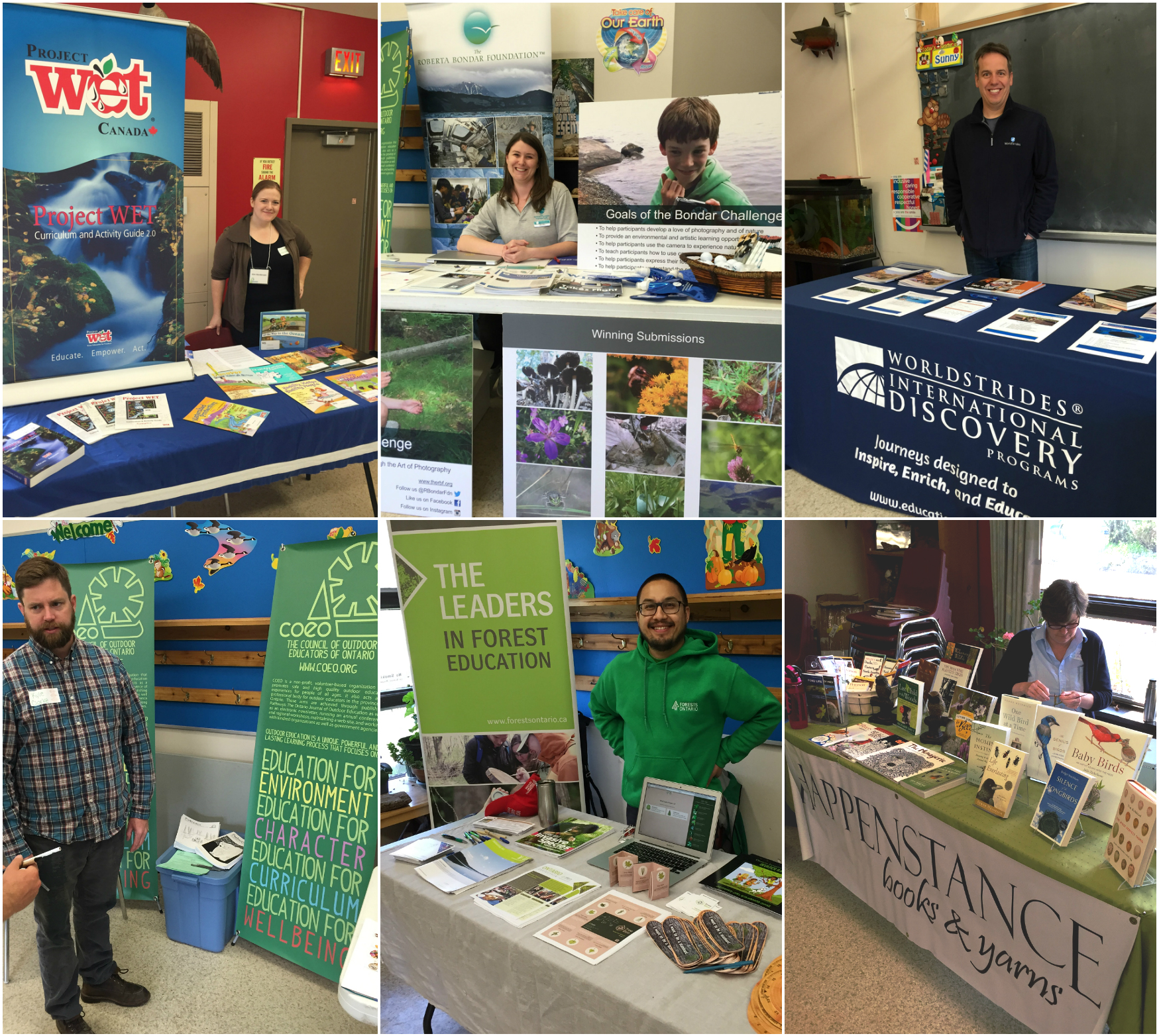 ProjectWET Canada http://www.projectwet.org/
Forests Ontario http://www.forestsontario.ca/
Worldstrides https://worldstrides.com/
The Roberta Bondar Foundation www.therobertabondarfoundation.org/
The Council of Outdoor Educators of Ontario http://www.coeo.org/
Happenstance Bookstore www.facebook.com/Happenstancebooksandyarns