Franke James: Six Tools to Make Climate Change Art
Franke James is prolific and passionate about her art and the well-being of the planet.  So remarkably effective is her art that even the Prime Minister's office took note and banned it.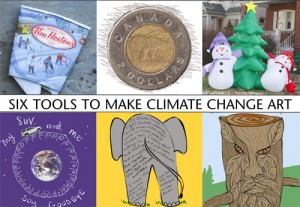 Visit Franke's web page for more information about herself and her art.In this keynote address Franke shares her methods of empowering everyday people to make art and share their green conscience questions and convictions.
Overview: 6 Tools for Climate Change Art tells the story of Franke's workshop.
Tree Hugger's article gives you another perspective.
---
Colin Harris: Take Me Outside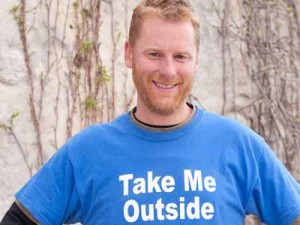 Colin believes that all children need and deserve the opportunity to be outdoors and connect with nature.  This is not an uncommon belief, but he made the uncommon commitment to run across Canada to make it happen.  OSEE is very pleased to announce Colin Harris as one of our EcoLinks 2014 keynote speakers.
We cannot describe the philosophy of Colin's Take Me Outside organization better than their own mission statement:
"We believe in the power of outdoor experiential learning. We believe in the countless benefits that having a relationship with nature brings. We believe in getting youth outside and active and hope to promote this message through various means of advocacy… "
Be sure to visit the Take Me Outside webpage for more information.
Colin's Biography on Kickass Canadians is a great introduction to this remarkable advocate.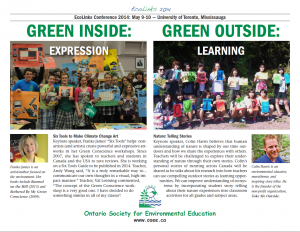 Click on Image for full flyer.