Presenters by Day

Friday
Catharine Bell – Upcycled Crafts Class
Vanessa Breton – The School Insect DNA Program
Alice Casselman – Tree Monitoring
Marcia Cunningham – Recycle Your Electronics
Lisa Farrows with Rob Ridley – Being Outdoor SMART (Social Media, Augmented Reality, Technology)
Dick Holland – Outside Isn't What it Used to Be – the CCWIL program
Jacob Kearey-Moreland – Growing Literacy through School Gardens & Seed Libraries
Carissa Maclennan – What Would Dr. Jane Do?
Josh Rachlis and Anita Payne – Climate Reality 2014
Michael Payne – You flushed it… then what!!
Region of Peel – Behind-the-Scenes tour of Peel's Waste Management Facility
Rob Ridley – Classrooms Without Walls: Nature as a Community Builder
Tooba Shakeel and Angie Sanchez – Creating Engaging Whole-School Environmental Campaigns

Saturday
Bonnie Anderson – Get Into Learning Outdoors
Diane Boulanger – An aquarium to model solving world issues
Beryl Cohen – The Map as Art
Warren Frantz – Creating Eco-Friendly Comic Heroes
George Heighington – Non-Compliant
Sahar Joya – Creating a more Inclusive and Sustainable World
Taina KanervaMindfulness Activities for helping Students develop Environmental Consciousness
Anita Payne – Tree Identification
Carling Watson – Bondar School Challenge
Sessions alphabetic by title.

An Aquarium to Model Solving World Issues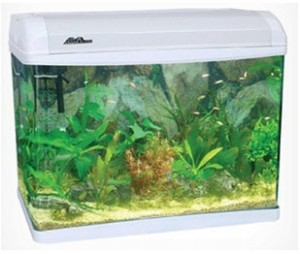 With a simple aquarium and a microscope, it is possible to model the solutions to some major world problems. Having an aquarium helps bonding with nature by taking care of animals and observing them. We model having fish farms by growing our own fish. We model growing food using hydroponics. An aquarium can also be used to grow green energy using algae. In a process that helps the atmosphere, algae can be transformed in green petroleum.
Saturday – PJ

Presented by Diane Boulanger
Diane Boulanger is a French Immersion teacher. Her interests include science, mathematics and technology.
---

Behind-the-scenes tour of Peel's Waste Management Facility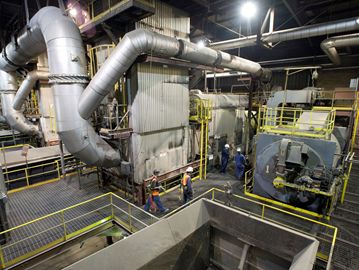 Put on your hard hat and uncover the hidden journey of recyclables and Green Bin organics at Peel's Integrated Waste Management Facility. This is a unique opportunity to gain access to this massive facility in action. Also included is a preview of the school group tour with an overview of classroom-ready activities that inspire waste reduction. This is a field trip, travel by car will be necessary. Carpooling can be arranged. Please bring safety boots (steel toe) if you have them. Hard hats provided.
Friday Evening  7:00pm-9:30pm  **Note special time

Presented by The Region of Peel
The Region of Peel is the regional municipality encompassing Brampton, Mississauga, and Caledon. The Region of Peel provides services related to waste management, water, wastewater, transportation, public health, and policing.

---

Being Outdoor SMART (Social Media, Augmented Reality, Technology)
Technology has always been a part of environmental education. A pair of binoculars can enhance a walk in the woods but if used recklessly will make students focus in on a single bird rather than the entire forest. Join Rob Ridley & Lisa Farrows of the Peel District School Board's Field Centres to discover how the right tool at the right time can indeed be technology out of doors. Bring your own device recommended.
Friday – PJIS

Presented by Rob Ridley and Lisa Farrows
Rob Ridley is the Field Centres Coordinator for the Peel District School Board with over 25 years teaching outdoor and environmental education. He is the moderator of #EnviroEd chat each Wednesday evening on Twitter.
Lisa Farrows is an Outdoor Instructor with over 10 years experience teaching outdoor and adventure based programs to students of all ages and alternative programs.

---
The Roberta Bondar Foundation is focused on igniting interest and knowledge of the environment. Using photography as an outlet, the Bondar Challenge is already active in camps around Canada. The Bondar Challenge allows students to appreciate the environments around them through a critical lens. Currently, we are looking to expand our programs into the classroom to further student engagement with the outdoors, and the natural world. Our workshop would take educators step-by-step through a potential session they could run at their schools. We hope to showcase the program and show its adaptability to different classes and different age-groups.
Saturday – PJI

Presented by Carling Watson
Carling Watson is the Programs Coordinator for the Roberta Bondar Foundation. She is a recent graduate of Western University and now Humber College. She will be joined by Bonnie Patterson, CEO of the Council of Ontario Universities, and Chair of the Roberta Bondar Foundation Board.

---

Classrooms Without Walls: Nature as a Community Builder
Going back a century there were community hubs such as the village church or general store where folk shared gossip and news.
However in today's society the concept of community is dying. Shopping options abound outside our own living areas, we come from various cultures and now the only things we still could consider potential community hubs would be our schools and public spaces.
For 8 years the Peel District School Board's Field Centres have been offering "Classrooms Without Walls" to both elementary and secondary schools. This program allows a school community to work with a Field Centre Instructor for the year both at the home school and at the nature centres to incorporate environmental education into every strand of the curriculum.
As fascinating benefit of this has been the sense of community that has built in school communities from this year long initiative.
Friday – PJIS

Presented by Rob Ridley
Rob Ridley has over 25 years teaching outdoor and environmental education. For the last 11 years he has been the Coordinator of the Peel District School Board's Outdoor Education Centres. Rob is a huge supporter of community based believing it is the perfect avenue for regular and consistent environmental education.

---

Climate Reality 2014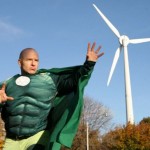 Using the up to date version of Al Gore's presentation featured in "An Inconvenient Truth", Anita and Josh will focus on solutions to the climate change problem. Josh will demonstrate how humour can be used to connect with your audience.
Friday – IS

Presented by Anita Payne and Josh Rachlis
Anita Payne and Josh Rachlis were among 100 Canadians trained to be Climate Leaders with the Climate Reality Project in Chicago in the summer of 2013. Anita is a recently retired high school science teacher and climate activist. Josh is an advertising copywriter by day and eco-comedian, aka Enviroman, by night.

---

Creating a more Inclusive and Sustainable World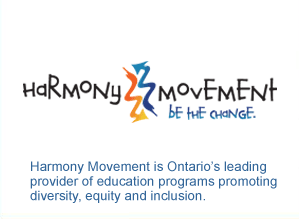 This workshop will engage participants in critical conversations about how our identity impacts our environment and vice versa, and through interactive activities learn about how diversity, equity and social justice education can strengthen the environmental movement in creating a more inclusive and sustainable world.
Saturday – PJIS

Presented by Sahar Joya
Harmony Movement provides interactive diversity and equity education programs that empower and inspire youth, educators and those in the social service sector to develop an equity lens, empathy, respect, and leadership skills as leaders for social change.

---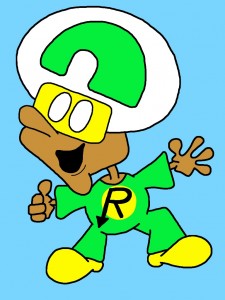 Creating Eco-Friendly Comic Heroes
In this presentation, you will experience how to design an eco-friendly superhero to help inspire green initiatives at your school. Explore different ways to use your newly created character in poster campaigns, school assemblies and beyond!
Saturday – PJ

Presented by Warren Frantz
Warren Frantz is a Primary Teacher at a Green School in Sudbury, Ontario. He has been doodling his whole life and has run a webcomic website for the last 5 years.

---

Creating Engaging Whole-School Environmental Campaigns
This workshop will introduce the tools and techniques necessary for building an effective whole-school campaign. Using waste as a lens, learn how to launch successful environmental initiatives at your school. Participants will be provided with a variety of campaign schemes, educational resources, and curriculum-linked activities to inspire environmental change.
Friday – PJIS

Presented by Tooba Shakeel and Angie Sanchez
Tooba is the School Waste Action Coordinator at Ecosource with an extensive background in community engagement and taking hands-on approaches to environmental sustainability.
Angie is the School Campaign Coordinator at Ecosource dedicated to engaging students and communities in striving towards sustainable lifestyles through experiential learning.
---

Get Into Learning Outdoors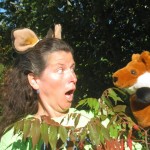 Learn strategies for how to get past "recess" and get into learning outdoors. Problem solve barriers of equipment, time and permission to get to the heart of the matter – How to make learning outside powerful and meaningful. Tips for curriculum connections and how to source green spaces around your school for time deepening will be discussed. Get ready for a spring – learning how to get the door open is the first step.
Saturday – PJI

Presented by Bonnie Anderson
Bonnie Anderson has been in the school doing Classrooms Without Walls programs for several schools in the Peel district school board. She has be sharing with the teachers and training snow pant protocols with students so time is well spent and your nerves are still intact. Many years of expereince have made Bonnie creative and having seen just about everything she can problem solve with you to create a great program in your own backyard.
---

Growing Literacy through School Gardens & Seed Libraries
Imagine a Garden at Every School. Childhood malnutrition and youth food insecurity is spiraling out of control. The situation is appalling. Children can no longer stomach nutritional food guides – they need real food. School food gardens and emerging seed libraries engage young people in experiential hands, nose and mouth-on learning, teaching critical life and food skills. Join us and learn how to create a school food and garden program, as well as a living seed library. What's more important than feeding our children? Teaching them to feed themselves.
Friday – PJIS
Presented by Jacob Kearey-Moreland
As a youth Jacob has dedicated himself to the cause of food security and universal food access. He is a Cultivator with the Toronto Seed Library, a fast-growing network of public seed-lending libraries. Jacob initiated and continues to organize Orillia Community Gardens, a network of community food gardens and youth food programs. Jacob is now deeply involved in "Growing Orillia's Food Future", an emerging food council composed of educators, healthcare professionals, food banks, policy makers and more.
As a farmer and recent graduate of the University of Toronto, Jacob has extensive experience of urban agriculture, school gardens and empowering youth through food sovereignty.
---

Mindfulness Activities for helping Students develop Environmental Consciousness
Mindfulness is paying attention here and now with kindness and curiosity (www.mindfuleducation.org). By using all five senses, mindfulness reconnects students to the moment increasing their awareness of their surroundings. Using strategies like visualization and mediation help students bond with the world around them as well as themselves, thereby helping them to form a connection with environment. This session will examine strategies that help students develop this connection by paying attention to the here and now.
Saturday – IS

Presented by Taina Kanerva
Taina Kanerva graduated from Queen's University with a B.Sc. (Honours) and a double major in both biology and geography. She also has her B.Ed. from OISE/UT and a Masters of Arts in Environmental Studies from the University of Toronto. Her main interest lies in creating lessons that develop ecological consciousness in her students. Currently, Taina works for the Toronto District School Board. There she is a teacher and curriculum leader for the geography department. Taina teaches geography, environmental studies and philosophy at the secondary level. Taina lives in Toronto with her husband and two sons.

---

Non-Compliant
The story involves 53 multi-cultural families of lower socio-economics who acted together with no signed agreements to right a serious environmental incursion on their homes. It involved a certain radioactive waste materials left on the land, prior to the Atomic Energy Control Act of 1947 There is the quest to the Ontario Municipal Board to reduce the property taxes to a one hundred dollar nominal assessment. At the Supreme Court of Ontario, testifying for the plaintiffs was J.J. Robinette Q.C, Supt T. M. Guernsey, RCMP and Dr. L.G. Cook, NRC. Justice R.E. Holland judged in favour of the plaintiffs. This was reaffirmed by Houlden, Krevor and Griffiths at the Appeal Court of Ontario. This judgement acting Case Law has now encouraged Governments and Industry to clean up previous waste sites
Saturday – IS

Presented by George Heighington
George Heighington is a former Industrial Arts Instructor with TDSB. As an educator, he edited the DTTO Bulletin for a number years. He was very fortunate to be able send all copies from 1942 to 2010, at their request to the National Library of Canada. He was very instrumental in initiating the Cybernetic Land Walker Challenge, which ran for 14 years.

---

Outside Isn't What it Used to Be – the CCWIL program
The Climate Change Where I Live program helps make climate change real for students, offering different "Inquiries" into their localities (watershed, maple syrup, extreme weather, etc.), linking students to data & experts to data. From GreenLearning.ca and its innovative COOL 2.0 platform.
Friday – S

Presented by Dick Holland
Dick is a curriculum and workshop development consultant for GreenLearning Canada. He is also Secondary Coordinator for the Master of Teaching program at OISE/UT. Dick's area of research is global and environmental education and he has done international consultancy in that field.

---

Recycle Your Electronics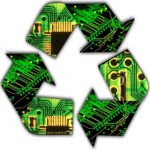 Electronics are everywhere. Your students need to know what to do with them when they're no longer wanted. So do you. This hands-on workshop engages you in inquiring into the consequences of electronic waste.ReycleYourElectronics.ca is a free youth education program, designed to meet Ontario curriculum expectations, to help your class enquire into the environmental consequences of our love affair with electronics.
Friday – IS

Presented by Marcia Cunningham
Marcia Cunningham is a bilingual educator, TVO producer, education program developer and consultant. Marcia worked with a team of leading Ontario teachers to develop Recycle Your Electronics for Ontario Electronic Stewardship.

---

The Map as Art
Cartography is an artform. Using the elements and principles of design, participants will use a variety of mixed media to move beyond traditional mapping techniques. While outdoors we will record the sounds we hear and create a number of maps including altered maps, sound, line, and poetry maps. Back inside we will work within a studio setting as we learn the basic techniques of collage, altering maps, and hybridity.
Saturday – JI

Presented by Beryl Cohen
Beryl Cohen is one of the founding teachers of Karen Kain School of the Arts, TDSB. She is the Vice-President of the Ontario Art Education Association and recipient of several awards including the 2010 ETT Environmental Educator of the year award. Her Masters thesis focused on creating a community art garden with her students and school community. She has spoken at a number of conferences, written curriculum for the Ontario Ministry of Education and is a practicing environmental artist, and canoeist.
---

The School Insect DNA Program
Since 2011, the Biodiversity Institute of Ontario (BIO) has teamed up with multiple schools and thousands of students across Ontario to explore insect diversity in their schoolyards through DNA barcoding, a genetic technique for identifying organisms. Using a Malaise trap, a small tent-like apparatus, each school has collected hundreds of insect specimens.  Join us to discover how your class can be a part of this exciting environmental education program!
Friday – PJIS

Presented by Vanessa Breton and Emily Berzitis
Emily Berzitis obtained her BSc in ecology and PhD in environmental sciences from the University of Guelph. She is currently an Education and Outreach Coordinator with the Biodiversity Institute of Ontario and she is interested in the development of science programs that engage young learners and stimulate critical thinking, while showing students the range of opportunities that are available.
Vanessa Breton is currently an Education and Outreach Coordinator with the Biodiversity Institute of Ontario. She received a B.A. from the University of Guelph in International Development studies specializing in Economics and went on to earn her B.Ed with a focus in primary/junior education at the University of Ottawa. Vanessa has always had a passion for the field of Environmental Education and has constantly striven to incorporate this enthusiasm and expertise into her classrooms, curriculum development and program designs.

---

Tree Identification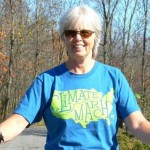 This workshop will start indoors to look at resources and review the basic classification of trees. Then we will head outside for hands on identification using a simple one page key. Trees will be just out in leaf, but tips for identifying them in winter will be included.
Saturday – PJIS

Presented by Anita Payne
Anita Payne is a retired science teacher and climate activist. She holds degrees in Ecology and Plant Ecology and participated in the Ontario Tree Atlas in the 1990s. In 2012 Anita participated in the Forestry Tour for Teachers at the Canadian Ecology Centre. This will be an updated version of the tree identification workshop Anita presented at EcoLinks 2011.

---

Tree Monitoring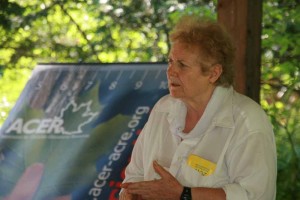 Learn the importance of environmental monitoring to study climate change impacts. We will teach you how to measure the growth of trees in this hands-on outdoor workshop.
Friday – JIS

Presented by Alice Casselman
Alice Casselman is the Founding President of The Association for Canadian Educational Resources (ACER, a.k.a Climate's Sake), an environmental not-for-profit, and a retired science teacher.
---

Upcycled Crafts Class
What do an old pair of jeans, a stale bagel, and newspaper ties have in common? Upcycled Crafts! Catharine Bell talks about the similarities between processing and recycling, and presents upcycling as an alternative. From our schools to our world, free- and upcycling are having a major impact on communities. Participants will leave with instructions to create three upcycled crafts for use in the classroom.
Friday – PJIS

Presented by Catharine Bell
Catharine Bell is a freelance photojournalist who has written articles for Scholar's Choice & Practical Homeschooling Magazine. She is the founder of Educators without Borders, an educational trip planning organization that allows for mixed attendance between educators, homeschoolers, seniors, special needs children and adults.
---

What Would Dr. Jane Do?
Using the example of Jane Goodall and her holistic approach to the conservation of chimpanzees and Learning for a Sustainable Future's student action planning model; this workshop supports teacher candidates and practicing teachers in the development of skills in education for sustainable development and student-led action planning. In this workshop, participants will:
Learn the steps to community-centred conservation, the approach used by the Jane Goodall Institute with local communities in Africa

Apply the steps of community-centred conservation to examine an issue in one's own community through an activity which could be done with students of any grade

Understand how meaningful student participation can be applied through LSF's twelve step action planning cycle
Friday – PJIS

Presented by Carissa Maclennan
In her role as Director, Programs Carissa is responsible for overseeing JGI's domestic and international programs, which includes education, conservation and research. Carissa is a certified educator, with a Master of Education, who has worked both domestically and internationally. Through her work, Carissa has provided training on a variety of topics from strategic planning to rights-based approaches in development and education. Carissa has extensive experience designing and facilitating workshops, program evaluation and program management.

---

You flushed it… then what!!!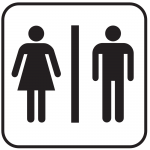 Did you ever wonder what happens after you flush? Get the real poop from the people in the know. Discuss the in's and out's of wastewater treatment. Watch an award winning video on the ultimate in recycling. Your poo is out there. Discover it's fascinating journey.
Friday – IS

Presented by Michael Payne
A biosolids and residuals utilization consultant dealing with anything a municipality or industry would like to recycle to land.

---