EcoLinks 2013 session descriptions are listed here alphabetically by session title. To see when a presentation is happening, check the Conference Schedule
---

Beyond Sustainability: Towards a "Nature-rich" Future
"The New Nature Movement Isn't about Going Back to Nature but Forward to a Nature-Rich Civilization" Richard Louv
In this session we will aim to answer the question: What can you do, both right away and in the long run, in your own life and for your family, community/classroom to move towards what Richard Louv calls a "Nature-Rich" future? Drawing on the work of Louv, (Last Child in the Woods, The Nature Principle) as well Jon Young (Coyote's Guide to Connecting with Nature), participants in the workshop will explore tools to implement change where it matters most – in the lives of the people they work with, know and love. This facilitated, interactive session will include a brief presentation, outdoor activities and opportunities for discussion and reflection.
Saturday – Inside and Outside portions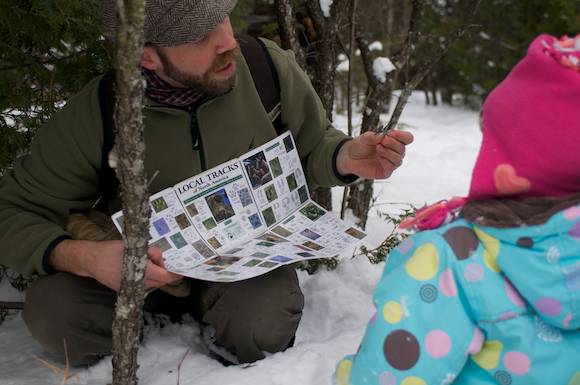 Presented by Craig Brant.
Craig is a naturalist, educator and nature mentor working as Project Manager at the Camp Kawartha Environment Centre, in Peterborough. Since his twenties, Craig has been mentored by renowned author and naturalist Jon Young and colleagues. He is dedicated is to serving people and other living creatures through his work at the Environment Centre and through several volunteer projects that foster a positive, nature-balanced future.

---
Bring Environmental Science to Life in Your Classroom!
Join us for an invigorating and engaging workshop where teachers can see projects and activities that give students the opportunity to engage in an investigation as scientists and apply their work to make a difference in the environment. Take a look at McGraw-Hill Ryerson's NEW Environmental Science 11 U/C resource
Presented by Ann Jackson
Ann is a Science Program Leader and Environmental Science SHSM Lead Teacher at St. Thomas Aquinas Catholic High School, Catholic District School Board of Eastern Ontario
---
Changing Currents: Hands on Methods for Water Quality Assessment
Help your students discover the health of their local watershed! At this hands-on outdoor session learn how you can engage your students in a stream or river study using both bio-monitoring protocols (based on Benthic Macro-Invertebrates) and probeware based measurements of some physical and chemical parameters. Participants will learn the basics of performing such a study and will be introduced to Changing Currents – an EcoSpark program that provides free support to teachers. Examples of how the Changing Currents protocol has been applied in the Rouge River and Duffin's Creek watersheds will be offered.
Intermediate/Senior – Friday

Presented by Dave Gordon and Holly Brose.
Dave is a science teacher at Dunbarton High School Pickering. Holly Brose is an Environmental Education Coordinator for EcoSpark.

---
Climate Change and the Arctic
This hands on workshop will provide you with complete cross-curricular materials for 3-6 lessons for grade 7 science, geography and literacy. Using simple materials you will build a mini-atmosphere in a plastic bottle to test the effects of higher CO2 levels on temperature change and the melting of an ice cube. From the minds-on video, to the completed rubrics and Teacher's Guide for the mini-greenhouse effect investigation to the follow-up literacy lessons about life in the Arctic, this complex topic will be easier for students to understand. These lessons are from the OTF sponsored resource written last summer by OSEE.
Junior/Intermediate – Friday

Presented by Deb Soanes.
Deb is a retired intermediate teacher and teacher librarian. Prior to teaching she was an environmental engineer with a consulting firm and with Ontario Ministry of the Environment. She has be interested in integrating environmental education into the curriculum since she started teaching.
---
Go Fish
A variety of fish-themed activities and games for Intermediate students with a focus on 'doing'. Two different outdoor simulation games explore the winter survival of fish and sustainability of different patterns of resource exploitation through time. Other activities and updates examine fish adaptations, ecosystems, and fisheries issues.
Junior/Intermediate – Saturday – Outside

Presented by Elizabeth Straszynski.
Liz Straszynski is a classroom teacher at the University of Toronto Schools teaching intermediate general science and Biology. Her previous life as a scientist has given her an appreciation for detail and authenticity. Her love for all things hands on leads her to develop fun new ways for her students to learn.
---
FoodShare's Field to Table Schools – Bringing Good Healthy Food to Life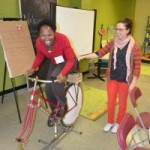 FoodShare's Field to Table Schools (FTTS) program integrates good food education into classrooms across the GTA with hands-on activities, workshops and growing projects. Students from JK to Grade 12 learn about composting, innovative food gardens, nutrition, cooking, local and global food systems and more… Join the FTTS team for interactive, curriculum-linked, tried and tested activities, learn about their newest good food initiatives and sample some freshly bike-blended smoothies! Participants will walk away with activity ideas that are easy to learn, easy to run and even easier to share.
Junior – Friday
Presented by Brooke Ziebell
Brooke is currently the Field to Table School Coordinator. She joined the FoodShare team in 2009 shortly after arriving from Australia and getting caught up in the buzz around local food in the city. Coming from a Nutrition and Dietetic background, and having seen the disastrous effects of unhealthy eating habits first-hand, Brooke realized that true disease prevention should start way back at the beginning, with children. Never turning back, Brooke is still thrilled to be engaging students of all ages across the GTA with hands-on, fun food education. Working with the Field to Table Schools team has kept Brooke on her toes, facilitating and coordinating workshops on local Ontario produce, cooking, urban agriculture, food security and sustainability, pollination, composting and more! (other presenters TBA)
---
Gardening with Kids
This session will outline the importance of gardening and outline suggestions to keep students motivated and cultivate a long term interest. Getting kids outdoors and developing a connection with their environment is a priority at Royal Botanical Gardens.
All Divisions – Friday
Presented by Nancy Lee-Colibaba.
Nancy is a Horticultural Therapy Coordinator/Horticultural Technician and has been with the Royal Botanical Gardens for over 28 years. Along with providing training sessions in horticultural therapy andworking directly with special needs populations, she coordinates the children's gardening programs and the public educational programs at RBG.

---
Get Outside Every Day
The learning strategy, community as classroom, is an example of engaging, energizing, rewarding and good teaching practice for any class, anywhere. This session will share the experience of Belfountain Public School that has undertaken the motto-GET OUTSIDE EVERY DAY! We will examine the interconnected key learning strategies and practices that allow educators to transform learning as outlined in Connecting the Dots: Key Strategies for Environmental Education, Citizenship and Sustainability (http://lsf-lst.ca/media/LSF_Connecting_the_DOTS_ExecutiveSummary.pdf)
P/J/I – Friday
Presented by Bryan Bibby Smith.
Bryan has been getting outside with his regular classroom students for the past 19 years. He has spent the last several years at Belfountain PS (Peel DSB) working with colleagues and Learning for a Sustainable Future to develop a school wide focus on using the outdoors meaningfully in learing. He has helped to develop and deliver several workshops to get more teachers and their classes outside.
---
Inspiring Hope… Environmental Education beyond Ecophobia
In the face of so many overwhelming environmental problems, how can we inspire children to become positive stewards? Jacob will offer up some age appropriate hands-on ideas from one of Canada's most sustainable buildings, The Camp Kawartha Environment Centre.
All Divisions – Date TBD
Presented by Jacob Rodenburg
Jacob is the Executive Director of Camp Kawartha and part time teacher at Trent University
---
Invert Superpowers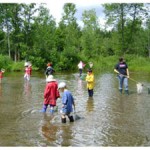 From hydraulic jet propulsion to walking on water, we will peek under the surface of the pond to see adaptations of aquatic invertebrates that can seem out of this world. Moreover, we'll see how sharing these discoveries with students of any age can engender an enduring fascination with the diversity of aquatic life.
Junior/Intermediate/Senior – Parts of this program are outside – Note: this session is available in French at a different time
Presented by Sheila Potter
Sheila is a biologist and educator with diverse teaching experience that spans more than 15 years.
---
Kidsgrowing: Sustainability Education Partnerships


School gardens present numerous entry points to environmental and sustainability education, but are underused by teachers and often fail. Some reasons include site design, curriculum, logistics, familiarity with the subject matter, and the problem of summer care. Community-based school gardens can overcome these barriers and support robust programming for all ages, addressing "nature deficit disorder" and bringing people closer to the source of their food. A short presentation about Green Thumbs Growing Kids and their multi-school and municipal partnerships within an inner-city neighbourhood is accompanied by sample elementary lesson plans and hands-on activities engaging all ages to get their hands dirty. Tips on starting and maintaining school gardens from a group that's in its 13th year of high-impact programs.
Primary/Junior – Parts of this program are outside – Friday
Presented by Sunday Harrison
Sunday founded Green Thumbs Growing Kids (www.kidsgrowing.ca) in 1999 and is now serving as Program Director and Volunteer Co-ordinator. She is a gardener, landscape designer and educator. She is currently pursuing a Masters Degree in Environmental Studies at York University.
---
Learning Outside the Classroom: Connecting Youth with our Past, Present and Future at the OFAH Heritage Centre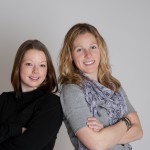 Nature at your fingertips! It's important as teachers to get students outdoors. With conservation education as a fundamental component of the OFAH strategic plan, we strive to give students, JK to Gr.12, the opportunity to experience our heritage in a way that goes beyond any book or classroom.
All Divisions – Friday – This is a field trip to the OFAH centre. A bus is being provided.
Presented by Rachel Pearson and Meribeth Burley
Rachel and Meribeth both hold their Bachelor of Science and are qualified teachers who are passionate about helping students discover the importance of conservation education. They strongly believe that those who have the chance to experience the environment first hand are more willing to protect and conserve it for the future.
---
Learn it! Do it! Engaging Pre-service Teachers to Learning about the Environment, in the Environment
I see and I remember. I do and I understand (Confucius, 551-476 BC). This famous saying highlights our presentation on pre-service teachers learning about the environment and integrating First Nations perspective at the Killarney-Shebanoning Environmental Education Center.
Pre-Service, Personal Interest
Presented by Yovita Gwekwerere
Dr. Yovita Gwekwerere is an Assistant Professor of Science Education in the School of Education at Laurentian University. She teaches PJ and JI science teaching methods and supports integration of the environment in the curriculum through environmental education field trips.
---
Morph Your EE into OEE!
There is likely a wealth of outdoor learning opportunities right outside your doors waiting to be utilized. Let's start the process of creating a community of outdoor educators at your school! We'll explore the benefits, barriers, and basics of getting outside, and create a plan for making it happen at your school!
Date TBD – All Divisions
Presented by Greg Derbyshire
Greg is a retired classroom teacher who is now pursuing his passion for outdoor experiential education (OEE). As well as teaching canoeing skills, working at

---
Nature Music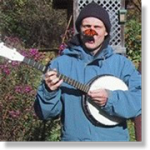 Join a professional musician in the woods in an exploration of nature and sound. You will be guided to use found natural objects and make homemade instruments. Experiment with rhythm, melody and composition.
Date TBD – Primary/Junior – Parts of this program will be outside
Presented by Glen Caradus
Glen is an accomplished musician, educator and naturalist. He is a well know figure in the Peterborough area and teaches at the Canoe Museum and Camp Kawartha as well as traveling with his own music and puppet shows.
---
Natureways Outdoor Education For the Birds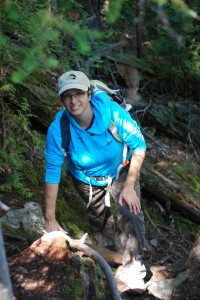 Learn about birds, and enjoy interactive fun! This seminar is designed to provide ideas and outdoor education resources through interactive games, group discussion, and more. Bring your binoculars if you have them! Audubon plush birds will be available for purchase at a special discount at the Natureways booth.
Date TBD – All Divisions
Presented by Monique Micallef
Monique Micallef,OCT, teaches for the DDSB. She has been an Outdoor Educator since 2004 and is a self-taught naturalist. She owns Natureways Outdoor Education, providing Summer Camp for children and teachers, and Outdoor Education workshops for teachers. Monique is 2nd VP for OSEE and is a member of the Ajax Environmental Advisory Committee.
---
Science at a Run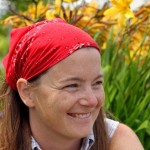 Cover important science and environmental topics with fun, kinesthetic activities. This session will lead you through running games that simulate concepts about renewable resources, climate change and energy fundamentals.
Junior/Intermediate/Senior – Saturday – Outdoors
Presented by Sherri Owen
Sherri is an outdoor and environmental teacher with years of experience in and out of the classroom. She is active in developing fun, curriculum based activities for classrooms and field trips.
---
Spa Day
Back by popular demand! This STSE activity suitable for the Grade 9 Chemistry unit is prefaced with a class that explores an internet database of personal care products and dangers of the chemicals they may contain. This workshop centres on the followup class: a 'spa day' of rotating stations where participants make and use their own personal care products.
Intermediate/Senior – Friday
Presented by Elizabeth Straszynski
Liz Straszynski is a classroom teacher at the University of Toronto Schools teaching intermediate general science and Biology. Her previous life as a scientist has given her an appreciation for detail and authenticity. Her love for all things hands on leads her to develop fun new ways for her students to learn.
---
Testing Water Quality
Due to illness Ellen will be unable to present at the conference. May we suggest Changing Currents: Hands on Methods for Water Quality Assessment-
---
Voyageur Canoe Paddle on the Otonabee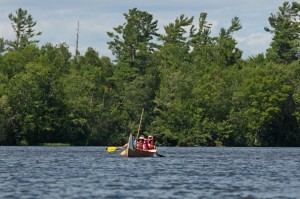 Enjoy a paddle on the Otonabee river with experienced guides and naturalists in a replica of a 24 foot North Canoe used by the fur traders centuries ago. The launching point is a short walk (and shorter drive) from the university. No paddling experience required. Paddles and PFDs (life jackets) provided.
All Divisions – Saturday – Outside
Presented by certified Kawartha Outdoor Education Centre Staff
---
Will Hike for Cache: Intro to GPS and Geocaching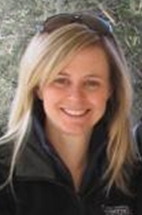 This double-session will introduce participants to GPS, including how the technology works, applications and limitations, and the link to topographical maps. Then we'll head outdoors for some hands-on experience in the adventure that is geocaching! Bring your own GPS unit or use one of the ones provided.
Junior/Intermediate/Senior – Saturday – Outside
Presented by Nicole Hamley
Nicole is an outdoor and environmental education teacher with the Toronto & Region Conservation Authority, working at the Lake St. George Field Centre in Richmond Hill. She is also a certified instructor with the National GreenCheck GPS Program.