OSEE PD Day Workshop Summaries and Resources 
OSEE PD Day at a Glance
On April 16th, educators participated in the OSEE PD Day at Camp Kawartha Environment Centre, located on the Trent Nature Sanctuary.  The day included:
Hand-on workshops
Learning new skills to engage youth in learning for, about, and in the environment
Classroom-ready activities and resources
Networking and brainstorming with fellow educators
We were incredibly fortunate to have such beautiful weather and fantastic workshop presenters who shared their experience, knowledge and engaging activities. Our most sincere thanks to our site hosts, Camp Kawartha Environment Centre and Trent Nature Sanctuary for donating the site for the day.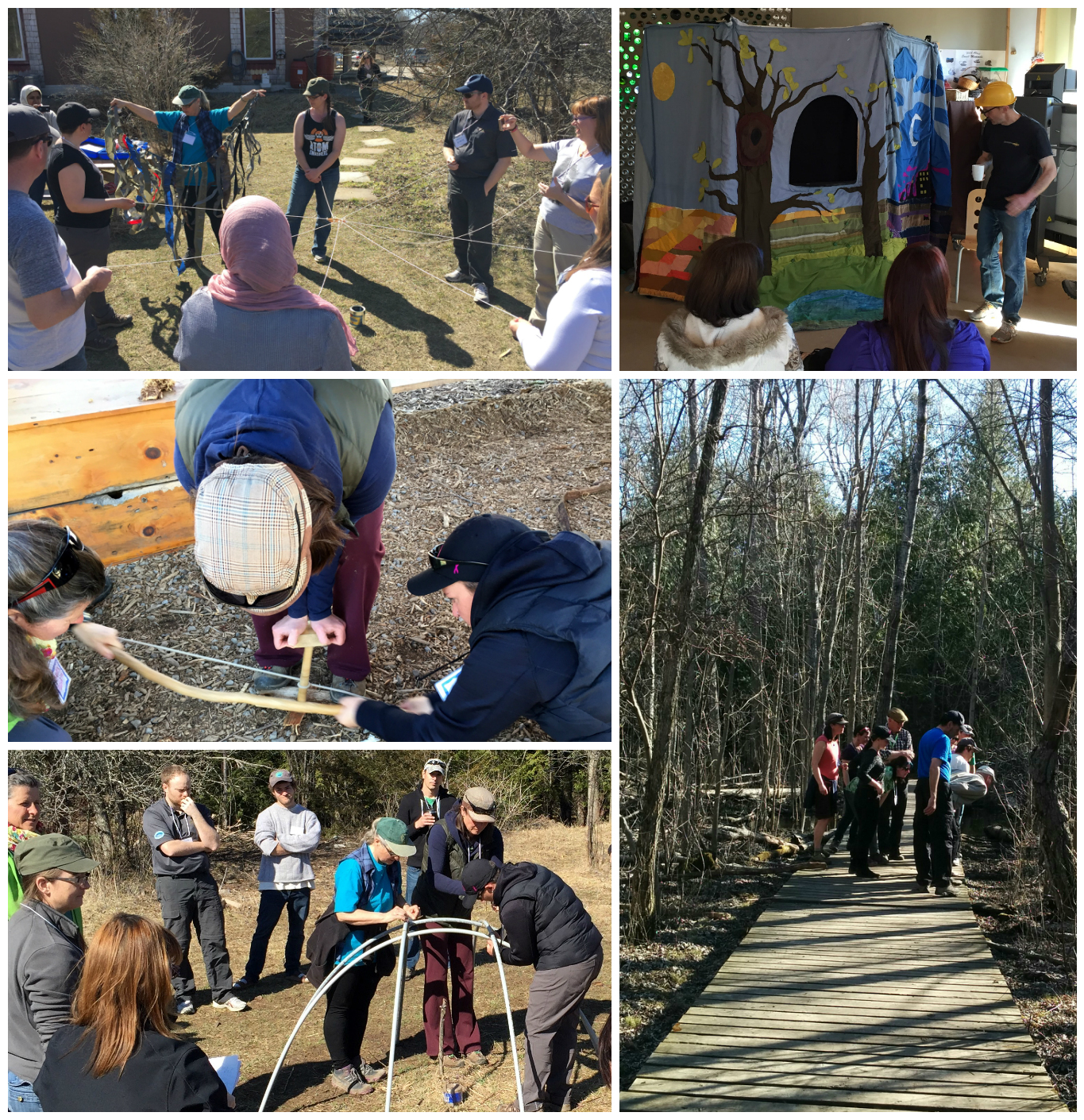 OSEE PD Day Workshop Summaries and Resources
The Art of Puppetry In Outdoor Education
Glen Caradus of Paddling Puppeteers | Primary
Glen of the Paddling Puppeteers presented an engaging puppet show and  shared with participants simple puppetry techniques to use in outdoor education programs.
Learn more about Paddling Puppeteers at http://schoolshows.ca/listing/paddling-puppeteers/
Connecting To Nature Through Traditional Skills
Sherri Owen of the Kawartha Outdoor Education Centre | Junior – Intermediate – Senior
Sherri delivered a fantastic workshop about practicing traditional skills through a series of hands-on activities.  Participants were able to directly interact with the natural environment, find material to create a bow drill and fire, make cording and build a  wigwam.
Learn more about Camp Kawartha's Outdoor & Environmental Education Programs & Curriculum Links at http://campkawartha.ca/outdoor-education/programs/
Create An Innovator's Culture With Hopscotch
Diane Boulanger | Junior – Intermediate
In the digital world everything is made in code.  Diane showed how coding can be used to engage students across various curriculum with the Hopscotch app for the iPad.  Coding can be taught as early as the primary grades using Hopscotch.
Learn more about Hopscotch and to view Diane's Prezi visit:
Sherlock Would Approve
Paul Elliot of Trent University | Junior – Intermediate – Senior
In this session Paul showed both low-tech and high-tech ways to promote the skills of observation, critical thinking and reflections on the relationship of humans with their environment.
Learn more about Paul or to contact him at https://www.trentu.ca/education/faculty-and-research/full-time-faculty/paul-elliott
Tree Identification
Anita Payne | General Interest / Personal Development
Anita led a wonderful session exploring tree identification.  After a short indoor discussion of resources, participants went outside to physically identify trees.
Learn more about Tree Identification at http://ontariotrees.com/id/howtoid.php
Hands-on Water Education: An Introduction to the new Project WET 2.0 Activity Guide
Teresa Rigg of Project WET Canada | Primary-Junior-Intermediate-Senior
Teresa demonstrated to participants some of the many fun, hands-on cooperative learning activities from the Project WET 2.0 program.
Learn more about Project WET 2.0 at http://www.projectwet.org/teach-and-learn
Discovering Nature In Spring
Drew Monkman & Jacob Rodenburg | Primary – Junior – Intermediate
Using the five senses, participants learned how to open children's eyes to the wonder of nature. Many of the activities will be taken from the Big Book of Nature Activities, which will be available in June, 2016.
Learn more about Discovering Nature at http://www.newsociety.com/Contributors/M/Monkman-Drew